SHUTTLE SERVICE TO
MAJOR HUB AIRPORTS
Albany, OR
Albuquerque, NM
Alexandria, MN
Athens, GA
Auburn, AL
Augusta, GA
Birmingham, AL
Brainerd, MN
Cheyenne, WY
ATL - Chattanooga, TN
BNA - Chattanooga, TN
Colorado Springs, CO
Columbus, GA
Corvallis, OR
Daytona Beach, FL
DeLand, FL
Deltona, FL
Duluth, MN
Eau Claire, WI
Eugene, OR
Flagstaff, AZ
Fort Collins, CO
Fort Benning, GA
Grand Canyon, AZ
La Crosse, WI
Laramie, WY
Loveland, CO
Macon, GA
Monterey, CA
Phoenix, AZ
Portland, OR
Prescott, AZ
Rochester, MN
Salem, OR
Santa Fe, NM
Sedona, AZ
St. Cloud, MN
Tucson, AZ
Tuscaloosa, AL
The Villages®, FL
Warner Robins, GA
Woodburn, OR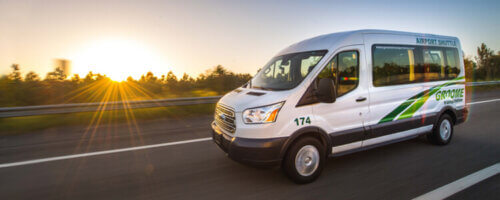 Groome Transportation has resumed operating nearly all routes. Select a location for details and learn more about our service enhancements.
The safety of our passengers and employees is our top priority. Learn how we're delivering a safe, healthy and clean travel experience.
SELECT YOUR AIRPORT
Click Airports Below for More Info
ABQ
Albuquerque
International Sunport
ATL
Hartsfield–Jackson Atlanta International Airport
BHM
Birmingham-Shuttlesworth International Airport
BNA
Nashville
International Airport
DIA
Denver
International Airport
DIA
Denver
International Airport
MCO
Orlando
International Airport
MCO
Orlando
International Sunport
MSP
Minneapolis-Saint Paul International Airport
OAK
Oakland
International Airport
PDX
Portland
International Airport
PHX
Phoenix Sky Harbor International Airport
SFB
Orlando Sanford International Airport
SFO
San Francisco
International Airport
SJC
San Jose
International Sunport
SJC
San Jose
International Sunport
Groome Transportation Airport Shuttle Service
Groome provides safe, reliable, and convenient intercity airport transportation connecting regional cities to major hub airports. With shared shuttle services between over 100 cities and 13 airports in the US, getting to and from the airport has never been easier.
Why Groome?
Take the stress out of travel & let us do the driving.

Reliable
With 24/7 service year round and frequent departures, our schedule fits your travel plans.

Safe
Our drivers undergo rigorous background screening & continuous training to ensure the safety of our passengers.

Affordable
A shared shuttle service is less expensive than other ride hailing options.

Convenient
Avoid the hassle of driving and parking at the airport. Enjoy curbside drop-off & pick-up at your terminal.
GROOME FAQ
Frequently Asked Questions