OUR SCHEDULE FITS YOUR SCHEDULE
What is a Shared Ride


AIRPORT SHUTTLE?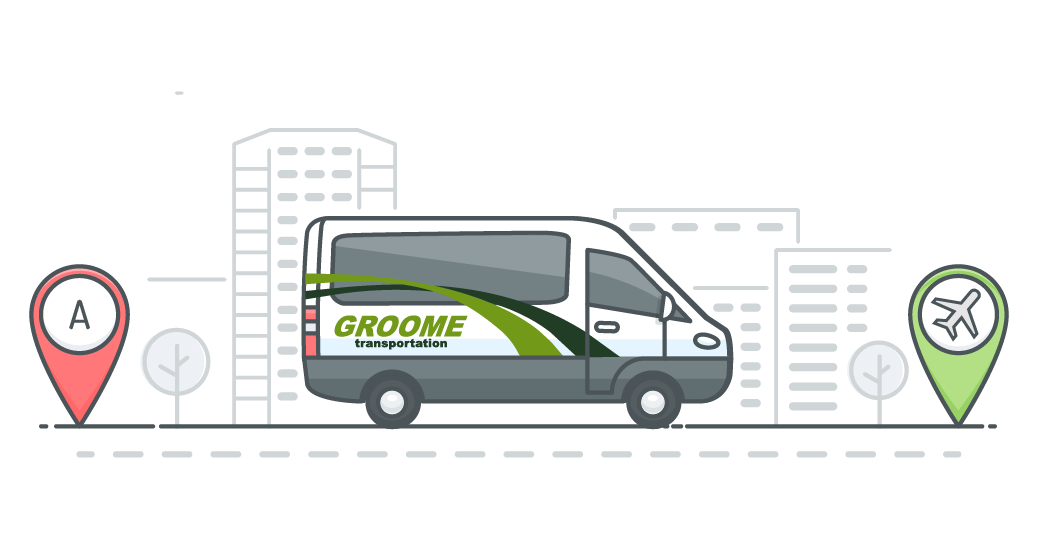 Shared ride airport shuttles are one of the easiest, most economical ways to travel to and from the airport, but if you've never used one before, you may have some questions about how they work. As a leader in shared airport shuttle service, we're happy to help you understand what to expect when traveling with Groome Transportation.
Our fleet of vehicles, ranging in size from transit vans to motorcoaches, make regularly scheduled trips between the airport and the cities we serve, much like a bus service though much more frequent. Riders are grouped together based on when they need to arrive or depart from the airport and they share a shuttle to their final destination for a fraction of the cost of traveling alone.
Riders arrive at their pickup location at the designated time and Groome takes care of the rest. No need to worry about airport parking, traffic or weather. Our hassle-free airport shuttle service provides curbside service at some of the country's busiest airports.
Many Groome locations also provide complimentary parking and some even offer pickup services at your home, hotel, business, university or military installation for ultimate convenience.
Was your flight delayed?
No problem, we totally understand. Because Groome Transportation has such a frequent schedule between the airport and the cities we serve, we can easily move your reservation to the next available shuttle.
At Groome Transportation, our drivers undergo extensive, ongoing screenings and a rigorous training program before getting behind the wheel. Our fleet is meticulously maintained by certified mechanics who keep our vehicles in prime condition. And our industry-leading cleaning procedures ensure all surfaces are sanitized before every trip.
The combination of worry-free travel and riding in a safe, state-of-the-art vehicle means a comfortable ride to and from the airport. Some riders have even been known to doze off during the trip! It doesn't get more comfortable than that.
Now that you're an expert on shared airport shuttles,
we hope to see you soon!
Now that you're an expert on shared airport shuttles, we hope to see you soon!